Charity Tuesday
Do something amazing!
Go on, challenge the norm, push the boat out, do something different. Have your next birthday party on a Tuesday and Tom will do something different too… by giving his fee to charity!
Charity Tuesday allows anyone to have a Tomfoolery party at a reduced rate, saving you money and giving much needed funds to an incredibly worthwhile charity.
Tom's aim is to fill every Tuesday with a 'Charity Tuesday' booking and raise as much money as possible over the year. This special offer party will cost you £150, of which £120 will go directly to this years chosen cause.
So go on, why not have an after school party? Or club together and have a joint party, just have a party for the sake of having a party! Tom's not worried about what party he does, just as long as he does a party each and every Tuesday!
School Discos! Themed parties! Magic Shows! Anything is a possibility! No maximum number of children! No limits! Just a few straight forward conditions: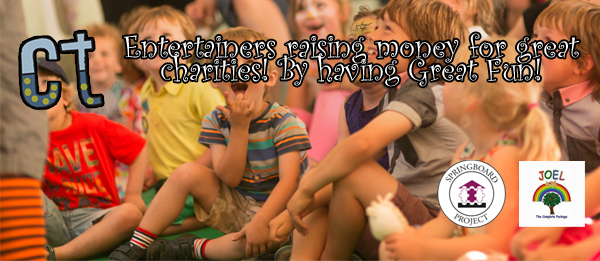 Bookings must be between 3pm – 7pm on a Tuesday (inc. school holidays)
Parties are two hours long with no maximum number of children!
Every child gets a balloon to take home!
£150 fee applies to all parties within West Sussex (Parties outside are subject to travel fees)

 
Charity Tuesday is supporting the Springboard Project Sussex click here for more info